Message from the Student Club President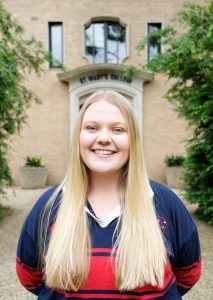 Hello and welcome to St. Mary's College!
St Mary's is the 'home away from home' for about 160 amazing students yet, to so many of us here, St Mary's is more than just a home. St Mary's is a friendly community that cares for, nurtures and develops the next generation of students 'to be seekers of truth and doers of justice'.
The St Mary's College Student Club represents the interests of all students here at St Mary's College. We aim to encourage participation in a vast array of social, sporting and cultural activities and events.
My role as the 2018 Student Club President is to ensure that every student is supported in their studies by an engaging and stimulating environment that puts friendship, inclusiveness and belonging, above all else.
St Mary's is a truly wonderful place to begin your studies in Melbourne and the next phase of your life. It is a place to truly discover your potential. I can't wait to see you all here!
Kathleen Gillahan
President of St Mary's College Student Club Inc.